Pep Guardiola tinkered, but this time his team overcame the obstacle.
John Stones jokes and plays coy. He eases the ball out from under his feet while drawing two Inter defenders toward him in an effort to create just a tiny bit of space for a pass or a shot. This was really fairly amazing for a center back. regarding a center back.
That very much sums up the night Manchester City joined the elite group of European teams. The league, domestic cup, and Champions League are only won by the best of the best. The last stage is the hardest of all for a lot of people—Bayern Munich in 2013, Manchester United in 1999, for example. No one, though, has been able to make things for themselves quite as difficult as City has.
Inter were a stubborn, tenacious opponent who reveled in giving City the ball, their man-to-man push confusing their opponents in the early going. Simone Inzaghi's players pounced after Ederson and his defenders faltered in control of the ball. Pep Guardiola was on his knees as a result of Lautaro Martinez's dominance, but the Argentine's poor judgment let him down. Romelu Lukaku was really unlucky to be made the scapegoat, but at the end, they even had the opportunities they had so infrequently created for themselves prior.
But don't be misled by the two goals they actually scored. Inter has established themselves as a dangerous opponent against Serie A competition, but at the top level, there was a gap between them and City. The Simone Inzaghi team did a good job of filling in that gap with mulch, muddying up a game that was never played at a pace that favored the underdogs. By the standards of the European elite, this was a regular squad performing tremendous labor to influence the game's play in their favor.
City made blunders as a result of Inter's pressure. The nerves of the European champions also changed. That was certainly the impression given by Guardiola, who kept telling his team to "relax" throughout the first half. The fact that City or their management once again overcomplicated matters may be the most persuasive explanation for the team's difficult path to victory tonight.
In order to help Rodri, an assertive double pivot who blocks out counterattacks and gives the playmakers ahead of them someone to dovetail with and bounce the ball off, Stones steps out from defense in a sophisticated scheme that City has performed flawlessly for months on end. What City's strategy did not include was a center back who was converted into something close to a right-sided offensive midfielder, with David Silva's former free-position now going to a player once dubbed the next Bobby Moore. Guardiola retaliated by starting a one-man midfield with Rodri after receiving criticism two years prior for doing so on this particular level.
Notice how far up and far to the right Stones was in the passing network for the squad (No. 5):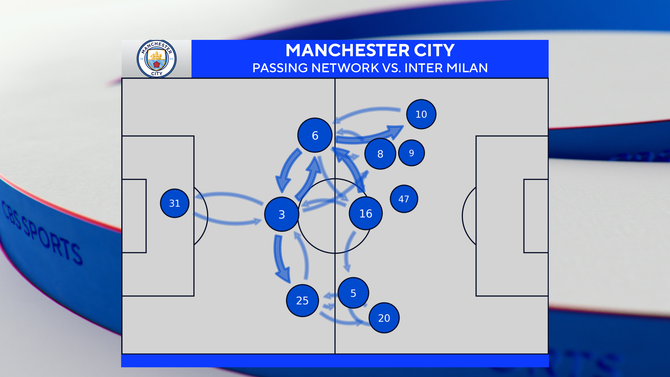 The plans Pep Guardiola was making made sense. Out of the front three, Bernardo Silva moves far to the side. Following is Alessandro Bastoni. Overlapping Stones cover the empty space left by those two, maybe pulling another center out to deal with him. Erling Haaland suddenly finds himself up against Inter without Inter's knowledge. Gulp.
From minute 1 to minute 90, it just didn't work. The seven comrades standing between Inter's back three and the ball were more than willing to do anything—fair or unfair—to stop the sky-blue wave, so they were more than prepared to sit deep. Ederson in particular was forced into the kind of nervous clearances that very rarely appear at this point in the season when the Inter press came early on for City.
Everything got trickier in the first half when Kevin De Bruyne left. Jack Grealish and Bernardo were extending the field wide, Phil Foden, his replacement, was attempting to stretch in behind, and nobody was occupying the most risky areas of the Inter third. John Stones, step up to the plate.
None of this negates the fact that Stones was fantastic. He would bomb past Bernardo and try to ping crosses into the box one second, and then track Federico Dimarco back to his own third. He went above and beyond what his coach could have expected of him, much of which appeared to follow De Bruyne's departure. But wasn't that a bit much? Even though everything was a little too complicated, City was this time strong enough to overcome its own shortcomings.
City only needed their moments tonight; they didn't need to completely control the game. In the first half, Haaland sliced through, and in the second, Foden sent his efforts too near to the great Andre Onana. Dimarco was silent when Bernardo had the chance to confront him. The team's cutting edge may not have come from their outstanding strikers, but Rodri's accurate finish in the 68th minute showed that they make the most of their times of dominance. At the other end, it actually assists when Ruben Dias is a vortex that absorbs all shots in his approximate direction during their most dominant phases.
Who could blame City's rivals if they had feared the worst, that this was just the beginning of an era of dominance for a team led by the relatively young Haaland, Dias, and Rodri? Had this night ended as some had predicted beforehand, in a shellacking of Inter by the overwhelming favorites at the books, then who could blame them if they had thought the opposite. This result is more worrisome for European football in many respects. The team with the most resources, the best roster, and the greatest coach of his time can freeze under the lights, face a challenging physical and tactical opponent, and lose their best player in the first half on the largest stage. In addition to all of that, they can continue to follow a tactical strategy that doesn't really appear to bring out the best in them. All those game-ending situations may still happen, but City would still triumph.